08.16.06 Silver Mount Zion / Carla Bozulich
Its been a while since I've made an update. Well technically I probably should've made an update after the Februarys/Elias show, but whatever maybe later. Silver Mount Zion for those that don't know are an offshoot of the incomprable Godspeed You! Black Emperor. Theres also rumors that this is also probably the closest you'll ever see of GY!BE even though they are officially on hiatus (3+ years). Regardless, I hadn't heard too much SMZ so I was ready to be entertained.
Got there around doors, small line up. Suprisingly there were lots of ppl w/o tix there too. Wait about 30 minutes after to offical doors and go in. Stupid Richards and their mandatory coat check. No matter. Go in get my fave spot and wait. Talked to some guy who was 59 and pretty much seeing the same kind of indie shows that I'm seeing.
Carla Brozulich takes her sweet time getting on stage. I think she took the stage at about 9:45 or so. Pretty much all I'm thinking is this is a) going to cut into SMZ's time or b) i'm going to get home well past 1 am. Not really sure how to describe her music. At times its very post rock and improvish. At others shades of slam poetry and as someone else wrote in their review "angry lesbian". It also didn't help that the vocals were getting distorted. She played for what it seemed like almost an hour. The place was packed by the way. Not bad for an opener. Definitely was in tune to what the rest of show would be like. On one of the songs she did do an interesting thing and got right up in the faces of a couple of audience member.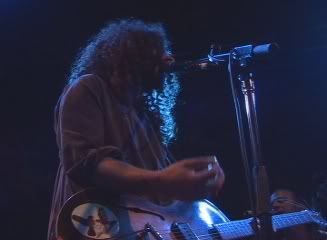 SMZ was next. Like I said, having only heard of Godspeed tunes and never any SMZ songs, I couldn't wait for them to get on stage. The stage set up was very interesting. They crammed 7 members onto the tiny Richards stage. Something i've never seen before was that they set it up like a half circle with 2 monitors in the center. The drummer was pushed off near the back of the stage to the side. 2 guitarists, 2 violinist and 2 cellos rounded out the group. Efrim does most of the vocals with the rest of the band helping out.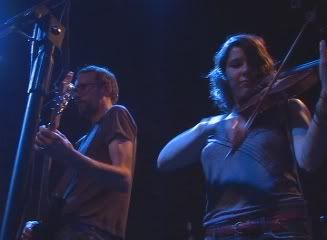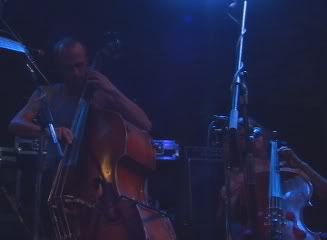 The show was pretty much lived up to all the hype. Lots of interesting vocal harmonies and string work. Actually the show reminded me a bit of the Explosions in the Sky show that I saw in 2003. What suprised me the most was that there was quite a bit of stage banter and crowd interaction. I was told Godspeed never even talked to the crowd.
Efrim: I just need to get this off my chest, I hate Douglas Copland
E: I've hated him since I was 20.
Crowd: Elaborate
E: No. I don't have to.
They also talked about Hastings street as well as Bush/Harper and bad sushi.
First set ran a total of 90 minutes more or less. This got me worried as I thought I was going to run out of batteries, however the encore that they did was only 15 minutes. Which in total is more than some shows but I suppose could have been more considering I've heard they've done shows with 20 min intermissions. In any case definitely a show not to be missed.
Setlist (from setlist)
Godbless our Dead Marines
Mountains Made of Steam
MOTEUR?
Horses in the Sky
Take These Hands and Throw Them in the River
Blind, Blind, Blind
--------
encore: A Million Died To Make This Sound
Oh and on an amusing note. There was a bunch of girls who for I have no idea at all tried to force the band into accepting some personal gifts (colourful hand made letters? and a bouquet of ... weeds? I mean seriously this was a 19+ show.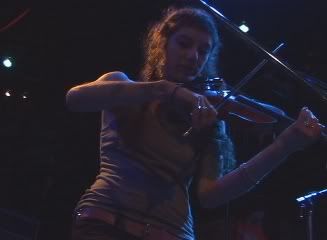 A Silver Mount Zion - God Bless Our Dead Marines (Live 08.16.2006)

$20/$12 never did find out if it sold out or not.
*edit*: it apparently did.