10.29.08 Video Games Live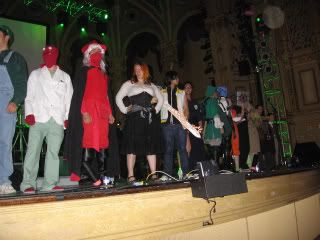 Music has always been an integral part of video games. In most recent years, there have been a number of bands and events showcasing this natural association. Bands such as the minibosses and Neskimos have been covering Nintendo numbers for a number of years. Other events, such as Video Games Live, use the more elaborate approach of a full symphony.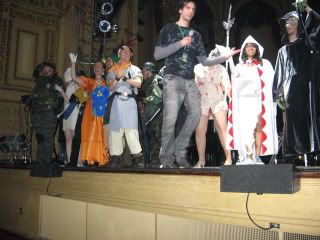 The concert started about an hour before the music with a costume party/contest. The actual number of attendees who dressed up was pretty minimal. The party itself consisted of a couple of Wii/Guitar Hero/PS3/etc booths. In retrospect the costumes in general were pretty average. The constest eventually came down to a zombie nurse and some alien from Mass Effect, with the latter being the winner.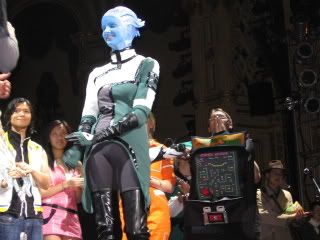 The concert portion of the event featured the music of the Vancouver Symphony Orchestra with co-founder Tommy Tallrico MC'ing the event. The event was fairly well put together and played out much like a variety show. While music was a primary component of the show, there were many interactive segments interspersed throughout to keep the audience entertained.
The program began with an old school games medley consisting of about 20 games from Pong to somewhere around the 8-bit era. The rest of the program focused many on music from games from the late nineties and beyond. Several of the pieces, in particular used the talents of the Vancouver Cantata Singers quite nicely. In particular,
Civilization 4
seemed to almost uplift and awe the audience. Other pieces were almost forgettable, falling into the "epic movie soundtrack" realm.
Interspersed between the tracks were two interactive moments. The first featured a rather large gentleman, forced to wear a shirt several sizes too small, playing interactive
Space Invaders
. The second was a twelve year old in a
Guitar Hero: Aerosmith
contest. Both were unsuccessful, but received consolation prizes (actually the latter got it anyway). Perhaps the most impressive pieces were done solo by pianist Lee Ann Leung, sister of Martin "the Video Game Pianist". Her 10 song
Final Fantasy
medley was stunning. Other notables: The Vancouver band Splitting Adam played live, accompanying the orchestra, to
Need for Speed: Undercover
. A remix of
SSX Tricky
was played with the original composers/music directors. The night ended with two crowd pleasing encores, "One Winged Angel" from
Final Fantasy 7
and
Castlevania Rock
.
Despite the charming evening of music, I did have one major gripe. There was a lot of wasted time. All the interactive segments, song introductions and MC banter ate up a lot of time. In fact, one of the segments was a impromptu filming of a video game review of the TV show "Reviews on the Run". While all of this lead to a more polished and well paced show, one could not help but wonder how many more songs could have been added to the setlist.
Setlist
01) Intro/Symphony warm up
02) Classic Arcade Medley
03) Metal Gear Solid
04) God of War
05) Space Invaders
06) Need for Speed: Undercover
07) On My Own
08) Civilization 4
09) Final Fantasy Piano Medley `
10) Metroid
11) Legend of Zelda: Twilight Princess
---------------------------------------
12) Intros/Electric Playground Segment
13) SSX Tricky Remix
14) Kingdom Hearts
15) Warcraft
16) Starcraft 2
17) Super Mario Brothers
18) Mario Piano Medley
19) Tetris Piano
20) Guitar Hero Challenge: Aerosmith - Sweet Emotion
21) Halo
---------------------------------------
22) Final Fantasy 7: One Winged Angel
23) Castlevania Rock
$65/$80
Labels: Lee Ann Leung, reviews, Symphony, Vancouver Cantata Singers, Video games, Video Games Live, VSO