04.29.2009 Murder By Death / The Sicks / Winter of Freedom
This was my first time seeing a show at the Bourbon. I was pleasantly suprised with what I saw inside. Excellent lighting, high stage, raised floor on the side and 2 bar areas. This is a very underrated local venue.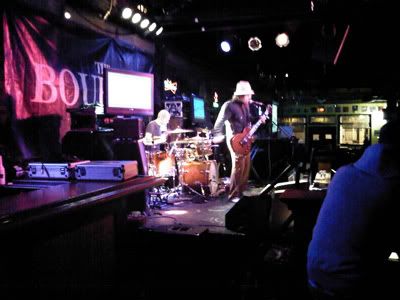 The first band up was local, Winter of Solace. The band was comprised of a singer/guitarist, keyboardist and drummer. That's right no bassist, yet I could clearly hear a bass line throughout most of the songs. This really bothered me for some reason. The singer has a pretty good voice that reminds me of a radio rock band. The one thing that set them apart from all the other bands was that they had 2 LCD screens on each side of the stage for visuals. Not a bad idea, but some of the visuals looked really low budget, which took away from the experience.
The Sicks, another local band, followed. They're really not my thing. The first few songs I heard sounded like, DMB/Jack Johnson inspired rock. However midset they switched to Sting/Beduoin Soundclash inspired reggae-rock, complete with accents. I don't t hink they played any covers, but I could be wrong. They left me pretty confused. I guess they'd be a pretty good house band for the Roxy or something.
This was Murder By Death's first headlining show in Vancouver and I was pretty surprised with the turn out. I really doubt they get any sort of radio play in Vancouver, college or otherwise. I was a little bummed out that their recent tour with their old keyboardist didn't stop in Vancouver, but at this point I'm just happy I don't have to drive down to Seattle to see them. Anyways, one thing that I noticed was that their show or maybe their new material seemed more .. how can I put this, rock oriented? I've never really been good at describing genres and such, but the way they played, the entire night I was thinking this is probably the perfect bar band. Most of the songs they played, like Brother, Comin' Home and Ball and Chain, were upbeat and fun. The kind of songs you want to get drunk to. The crowd seemed really into it as well. I know I wasn't the only one yelling the 'gang vocals' part in 'Sometimes the Line Walks You'. Really my only complaint this evening was that their set was pretty short, clocking in at less than an hour, no encore. They were playing 80 min sets a few weeks ago.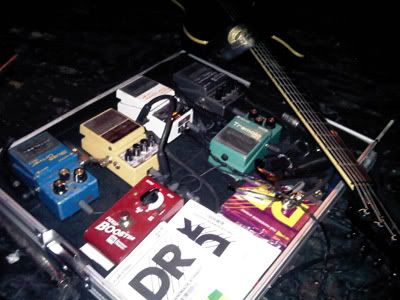 Adam's Pedalboard



Matt's Pedalboard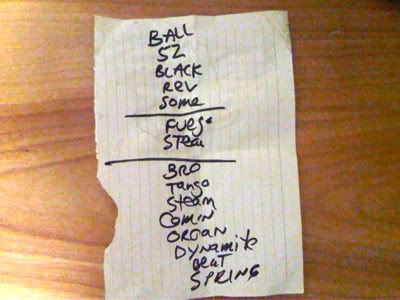 $10/$10
Labels: Murder by death, the bourbon, vancouver