11.14.2009 Tiesto @ HMV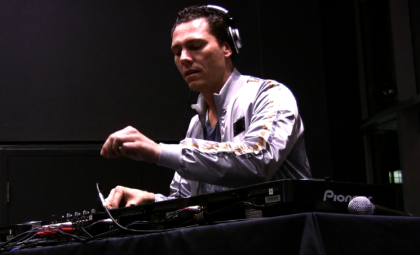 To preface this entire post, I've got a friend that is just crazy about Trance music. Most of the time when I'm talking to him, all the names of the artists pretty much go over my head. There is one name that he mentioned so often that it pretty much stuck. The one, the only Tiesto. Arguably the top dance/electronica/(or some other subgenre) DJ in the world. Actually, the main reason being it's an instore at HMV and it was free, but I digress. In retrospect, the whole situation seemed a little ill planned considering Tiesto was to spin at a 10,000 seat venue later that night, but first doing a small instore for probably a maximum of a tenth of that.
The lineup for the instore began several hours before the set even took place, with wristbands being handed out around 11 am or so. By the time the show started, it was already dark and the lines were stretching around the HMV building. Tiesto's 4 CD turn tables were set up in the corner of the store closest to the busy Robson and Burrard intersection. The whole store, inside and outside, was jam packed. After a half hour delay, the 30-45 minute set began. Not surprising, the set was intensely loud and the crowd was super into it. There were certain points of the set when I thought they'd have to shut it down due to capacity limits.
In terms of performance, Tiesto's choice of music was certainly catchy and crowd pleasing. However, being the philistine of the Trance world that I am, I wasn't exactly blown away by his technical prowess on the turntables. Other than a couple of on the fly mixing, I really couldn't tell the difference from what he was doing and just pressing play. It's possible he was just saving his 'A' game for later that night, but there were times when I thought he was just phoning it in. Actually my friend who is a DJ and even a Tiesto fan remarked later that his mixing was pretty off that set. Regardless, you had to be impressed at a man who could command a packed house and make them eat out of the palm of his hand. There was definitely no shortage of charisma, theatrics and stage presence behind the decks. Like a well seasoned veteran, he seemed to know exactly how to move and what to do to keep his fans and the mini-party moving and that's all that mattered.
$20/$0