04.02.2009 Julie Doiron / $100 (Waterloo, ON)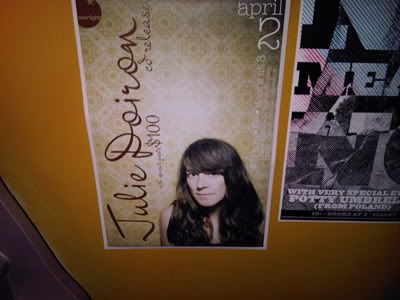 Interestingly enough, about a month back, the Starlight was in the running for CBC Radio 3's best venue in Canada contest. Having now been in it and seen a show there, I'd have to say that it deserves all the adoration it gets. It has just enough lighting, decent enough sound, nice large hardood dance floor and great inside decor. I'd be similar to the Biltmore in Vancouver, maybe with a slightly higher stage and tables instead of booths. Anyways onto the show...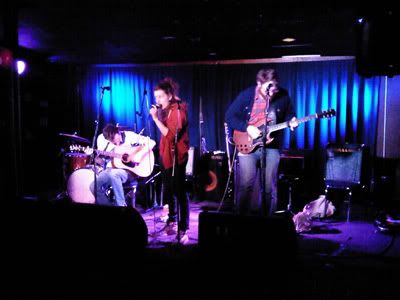 $100 opened up the show. They were a 3 piece band doing the alt country thing. Really the only alt country artist that I listen to is Neko Case, thus it would be very easy for me to make Neko Case comparisons. And I will. The lead singer of $100 actually sorta has some resemblance to Neko. She sings with more of a southern country drawl though. I can't really think of anything else worth mentioning as my interested started to wane after a couple of songs. Like I said, I'm not really into alt-country, though my friend who is, said he enjoyed it.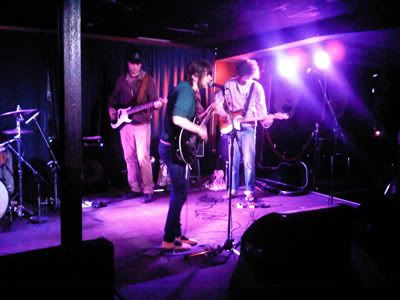 When I was living in Vancouver I had at least a couple of opportunities to see Julie Doiron live, but for some reason or another never got around to. I'm beginning to regret it now. For those not in the loop, Julie is known for playing bass in Eric's Trip, or Canada's version of Sonic Youth. For some of you I realize that I just tried to relate a relatively obscure Canadian artist with another equally obscure Canadian artist. You'll just have to take my word for it that Eric's Trip was an awesome band. For that reason, amongst others, Julie Doiron is (arguably) Canada's reigning Indie Rock Queen and not Feist. Speaking of Feist I recent came across a side by side photo of both Doiron and Feist on
flickr
that showed some really eerie resemblances. Also they both have an apparent affinity for Vox solid state amplifiers.
First off, Julie Doiron is sooooo adorable. Probably the cutest little thing I've ever seen on a stage. Gushing aside, Julie started her set solo playing "Untitled" and "Me and My Friend", which were by her own admission, "sad" songs. She played a couple more and a few requests from the crowd, "Wintermitts" and "Snow Falls in November", before calling for her band to start the full band portion of the night. The whole show had a very loose feel to it. Doiron didn't have a setlist, pretty much playing whatever song felt right at the time. This included songs which weren't even rehearsed. There was even a song, where Julie taught her bassist how to play it moments before it started. Between songs, Julie recalled a really amusing story about drinking wine, or as she called it 'diet alcohol', in her home province of New Brunswick. Highlights for this reviewer were "Consolation Prize", a new one from her just released album and "Nice to Come Home", which she played while the bassist was sorting out a problem with his amp. After almost 90 min of playing and chatting, she ended her set solo with "Glad to be Alive," also from her new album, which was quite the happy and upbeat song and pretty much the perfect song to end the day with.
$11/$11
Labels: $100, Julie Doiron, starlight, waterloo