07.25.2009 Hillside Festival Day 3 (Guelph)
The first 2 days of the festival had bearable amounts of rain. I don't have any waterproof shoes, so I walked around in flip-flops all weekend. My feet were muddy at the end of most days, however I didn't have to endure the pain of walking in wet socks/shoes. On the ride over to the festival grounds we had so much rain, I thought we were driving under a waterfall. It was a pretty spectacular sight. The good thing about the rain on this weekend was that it usually only lasted about an hour max, and would come and go. But when it came, boy did it pour. Oh yeah and we got thunder too, more about that later.
I went to the Island tent first to check out the annual Sunday Gospel Session. Not surprising, It was packed. I guess people wanted to be in church on a Sunday morning. Amongst the assembled gospel singers, acoustic instruments and such were these 3 intense looking (they were wearing sunglasses) African's playing traditional African instruments. Those instruments made some really unique and interesting sounds, however my attention span is short and the rain had stopped so I made my way to the Lake Tent.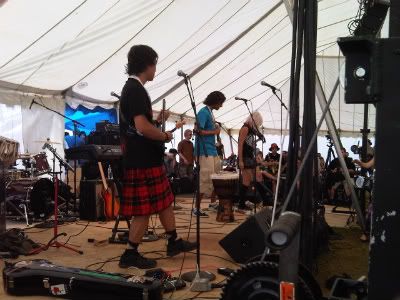 Being that I interviewed them, I figured I should probably see Dehli 2 Dublin play. They were playing with FRED and Eccodeck as party of "Kick out the Jams". The attendance at this tent was pretty low, however most of the people there were dancing it up. It was funny seeing the deadhead hippies dance it up. Dehli to Dublin are a pretty fun band to watch. Kytami knows how rock it out on the fiddle. Andrew their sitar player looked like he was handling bass duties today or maybe it was an electric sitar, he was also wearing a slayer shirt plus a kilt. lols.
I had to drop by the mainstage, and while I was waiting, I saw a bit of Sam Bradley's set. Weird, he's from Vancouver, though I've never heard of him. Standard acoustic guitar singer-songwriter type of stuff. He had a row of fans (maybe 4-5 ladies) with signs near the front of the stage. Vish from CBC radio 3 made a comment about the sign. He read it out but didn't get it. Some sort of inside joke or something.
I ended up at the spoken word tent to find open mic going on. One of the acts I saw was, well of "open mic" quality, and the other was someone telling a heart wrenching tale about finding inner strength and a (sigh, almost cliche) terminally sick boy in a hospital with a feather from a pillow, blah blah blah something about an angel blah blah, well you know how it ends, person is inspired and the boy, well he's terminally ill. Anyways, there was a Fresh Prince of Bel Air episode that was pretty similar. Crowd was very moved though. Saw more than one person with wet eyes and not from the rain.
I went down to a the Island stage to find another packed tent. This time Dancehall Free for All was inhabiting the stage. I was a little disappointed to not see some sort of "Dancehall" band from the Caribbean. They're local, so they had a lot of crowd support. I wasn't really into it and decided to check out the spoken word stage again.
I got there to see C.R Avery do a spoken word story about a boxer. Throughout the story, he did some beat boxing. It was pretty captivating.
What I saw of the Witchies I didn't really care for. I thought they were alright, but I just wasn't really into it and probably would have left to see something else had it not been a thunderstorm in mid swing outside. There was an announcement made by the organizers after the Witchies' set to stand away from the metal support poles that kept the tents standing, as essentially they were giant lightning rods. At one point during the storm between sets, lightning struck just outside the tent behind the stage. I don't think anyone was struck dead on, but I overheard people talking about being able to feel it come down near them. One girl claimed she was struck a couple hours after during the Julie Doiron/Patrick Watson workshop. She's probably a robot.
I know my other writing partner was sort of lukewarm on Clues, from Montreal, but I found their set to be pretty good. My set was probably shorter than his so maybe I had a more refined view of their live show. Clues is Alden Penner's (ex-Unicorn's) new band, I think it also boasts a former member of the Arcade Fire, though definitely before Arcade Fire was touring cross Canada. Clues really had some bad luck going for them. First their soundcheck went way over time causing them to have a shortened set and secondly they seemed to be having trouble finding their drummer as their set time drew near. Someone told me later, it was because he hurt his back from a lightning strike. (Another robot?) I'll have to see how they are with a full set.
Knowing that I had very few breaks from this point on, I went to grab lunch. Wanting to try something new, I opted for an African peanut stew form the food tent. Very tasty, however, I would have liked to had some meat with that. I topped it off with an organic Maple Crunch ice cream cone from another vendor.
So the Andrew McPherson/Julie Doiron/Sam Bradley/Patrick Watson Workshop (entitled Brand New Day) was one of the highlights of the festival for me. Patrick Watson played host and mentioned that Eric's trip was the first show he ever saw as as a kid. Sam Bradley, Andrew McPherson and Julie Doiron each got to play one of their own songs, and then it was improv time. You could tell it wasn't rehearsed because during McPherson's set, you could see Doiron and Bradley looking over at McPherson to try and find the chords to play. Julie Doiron was initially hesitant about the improv idea, but Watson kept pushing for it, as a good host would do. Doiron, mentioned that her daughter Rosey was better at the improv thing so Watson suggested she sing a song about Rosey. And that's what the song was about. Chorus was basically "Roooseeey, Rooooseeey", etc. Pretty cool. Doiron dedicated the song to her kids, the ones not named Rosey. Watson created the next improv by asking the crowd for a song name. I think they settled on "Radical Sock" or "Radical Shoe" something like that. One of Doiron's backing band decided a reggae jam was what it would be. Each performer took turns on the verses. Overall this was one of the cooler acts I saw at Hillside, musicians doing what they do best, creating music.
The previous stage was running later than schedule so by the time I left, it would have been pretty late into The Rural Advantage's set. I reluctantly decided to skip it, because I had to get to the main stage and my stomach was growling at me again. In case you're interested, and I know that you are, I had some yellow Thai chicken curry. Like everything I at this weekend, it was delicious.
I caught Great Lake Swimmers next just as the sun was coming up. They were a lot better than the last time I saw them. Maybe it was the location, but they seemed to have more of a stage presence outdoors. Oh yeah they attracted quite the crowd as well. The front of the stage was elbow to elbow in terms of space. They played a mix of new song and older songs like "Your Rocky Spine" which kept me happy.
You know a couple of years ago I was a little disappointed when Patrick Watson was announced as the 2nd Polaris prize winner, not because I didn't think he deserved it, but I thought others were more deserving. Well after seeing him live, I'll have to retract my disappointment. He really is a gifted song writer. His stage show consists of a drummer, violinist, bass and guitar with himself handling the vocal and piano duties. He seems to find the right balance between folk and rock. In a way it reminds me of the mellower Radiohead songs.
Because this was a festival show, Final Fantasy today was just Owen Pallett, without the projectors. Actually I prefer his show without the projectors, because I find them a little too distracting. Pallett hasn't had a proper studio album in a while so most of the songs he played today were new songs off his upcoming album "Heartland". The highlight of the night during "Lewis Takes off his Shirt". It had started to rain a few songs before, but it really started to come down during this song. I'll let this video explain the rest:
and here's another new song:
The Skydiggers were introduced by one of the organizers as a band that played the Hillside Festival 20 years ago. They're sorta folk/country/bluegrassy. I wasn't really impressed because it's not really my kind of music. Though they seem to have a following that thought standing in the rain/mud was worth staying for. I was pretty bored until one of the guitarists introduced a song about North Vancouver. They I was back to being bored.
And there we have it, 3 days of Hillside Festival. I for one, had a blast this weekend, you know, aside from all the rain, mud, more rain, more mud, thunderstorms, etc. With a strong sense of community, solid Canadian indie rock lineup and overall chill atmosphere, I could see myself coming out to this next year as well.
$50/$0
Labels: Buffy St. Marie, Clues, Dehli to Dublin, Eccodeck, final fantasy, FRED, Great Lake Swimmers, Julie Doiron, Owen Pallett, patric watson, Sam Bradley, witchies