11.10-14.2010 Wintersleep / Ra Ra Riot / Listening Party / Parlour Steps / Hey Marseilles
Being unemployed/barely employed sometimes has it's advantages. For one you can sleep in until 11 am and go to as many shows as your savings will allow. So when I had the opportunity to see Wintersleep a bunch of times on their Canadian tour, I jumped at it. I was only planning on covering the BC shows because I don't think anyone cares about the US shows, but they do have some other Vancouver content so I might as well squeeze it in.
Seattle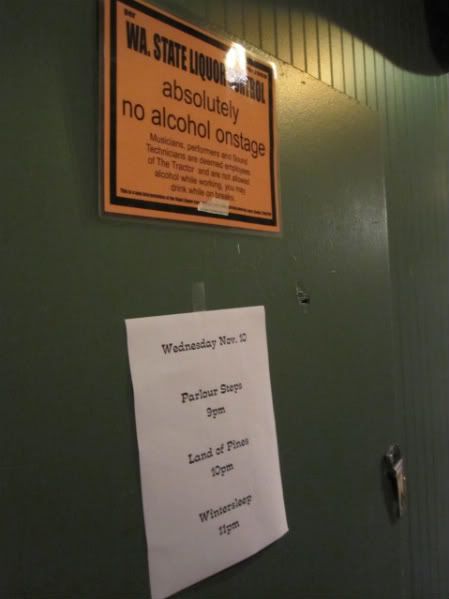 Seattle's always had a pretty weird set of rules against fun (infamous
Teen Dance Ordinace
or as my friends in Seattle referred to as the "Footloose" laws), so it wasn't really a surprise when I heard that you couldn't have alcohol on stage. Not really a problem for me, but still weird for those who play music.
Never really got to see Parlour Steps in Vancouver so it was nice to finally catch a set of theirs, even if it's not in Vancouver. Most of their songs are mellow indie rock-ish. Crowd seemed to be into them. For some reason I keep getting a alt-country vibe from them, but I can't explain why.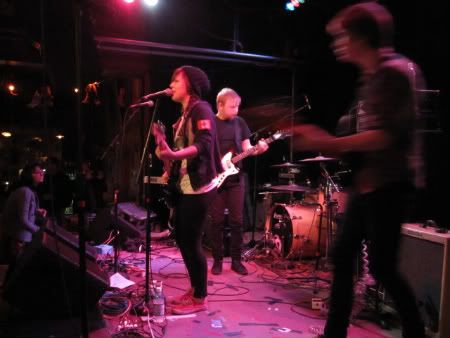 Most people were there to see Land of Pines. You could tell because by the end of the night there were probably only 30 people watching Wintersleep's set. Those that were though, were treated to a encore of Danse Macabre. It was originally supposed to be Nerves, but Danse was requested by one the die hards pretty much the entire night.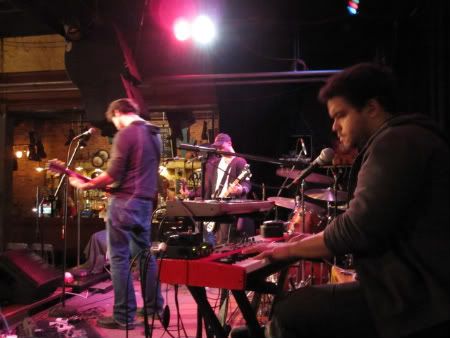 Portland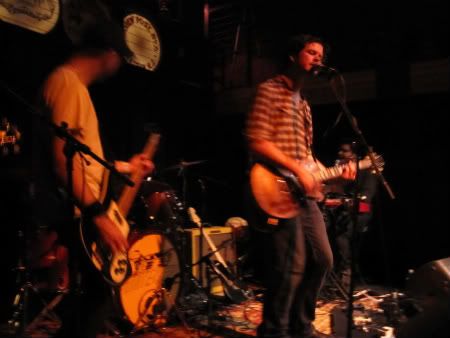 This was at Mississippi studios, which was more like a really small theatre. Very interesting almost vintage vibe to the place. Parlour Steps opened up this show as well. I think i'm they're starting to come around on me. I really enjoyed their set this time. I didn't stick around for Hey Marseilles. I can only say that they sounded like Beirut from what I heard of their soundcheck. Not much to say about this show.
Victoria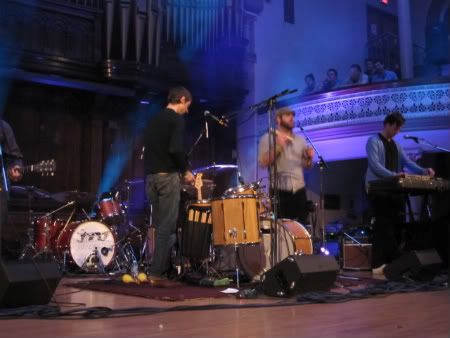 Victoria's show was at a medium sized theatre called Alix Goolden Hall. It used to be a church, but is now used by the Royal Conservatory of Music, so you can imagine how cool this venue is. Listening Party's set was probably highlighted by someone in the balcony starting the wave. It took him about 3 tries, but once the rest of the balcony jumped aboard, the whole building ran with it. It went around for 5 or 6 revolutions.
The immense size of the venue, coupled with the awesome lighting made for a fantastic show. My only complaint was the crowd, which was a bit sterile. People who wanted to dance were directed to the side of the venue and security made sure people stayed in their seats otherwise. I know Vancouver has a reputation for audiences not dancing and keeping their hands in the pockets and showing now excitement, but at least they'll stand up at a rock show. Patrons were left sitting, awkwardly, until the encore. Even then the encore songs only had about half the crowd standing.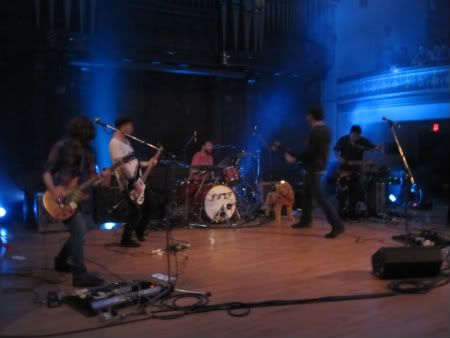 Vancouver
Listening Party was well received at this show. Probably because they're partly based here. They had fair amount of their fans singing along in the first 5 rows. I'm still not sold on them. Ra Ra Riot's first day on this tour was today. It's kind of weird how the band Rah Rah has also opened up for Wintersleep as well. On the same tour as well. I had checked out Ra Ra Riot when they first started getting a lot of buzz from their first album a few years ago. To be honest, on record, I thought their sound was okay, but nothing spectacular. Their live show has since convinced me that I should revisit their albums. They turned a lot of heads at the Commodore tonight. Might have been the larger stage, but they were pretty energetic onstage, moving around and engaging the crowd who ate it up.
Found out that Wintersleep's show was being recorded for a later broadcast on Sirus Radio. Pretty cool. I wonder how many shows I've been to the Commodore have been broadcasted on Sirius that I don't know about. This show was probably the best one I saw out of the five. Sold out and lots of energy. Nerves was a the perfect closer for the night with it's extended outro and drum solo.
Whistler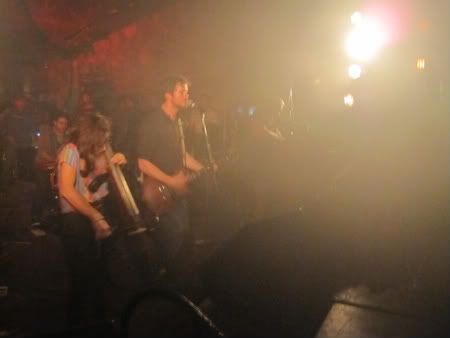 Pretty weird seeing Wintersleep in a small venue, Garibaldi Lift Company, which was essentially just a large bar. Ra Ra Riot opening up again. I think the show probably would have done better if it was during ski season, which won't happen until the week or so after. That being said, the venue was decently filled by the time Wintersleep got on. Ra Ra Riot's set was well received, though they didn't move around as much as they did the night before. Smaller stage I guess. Actually the venue had a very living room like vibe to it. Of note, during Wintersleep's set, the cellist and violinist joined in for "Preservation". It was a nice touch. Although it got me wondering why they weren't conscripted for the intro to "Experience the Jewel". Oh well.
Surprisingly, the setlists for the shows were pretty similar. Pretty much a good mix of all 4 albums. Not too many big changes from a year ago. Whistler didn't get "Nerves", which I assume having something to do about hitting the 1 am curfew. Actually one thing I did notice, is that while they do seem to be playing the same number of songs on the set, they're taking less breaks in between songs. A couple of last tidbits. I actually did hear Wintersleep try to work through "Migration" during their soundchecks, but I guess not enough practice. Also the stuffed/toy dog is named Jenny.
Labels: hey mareseilles, land of pines, listening party, portland, seattle, vancouver, whistler, wintersleep