Sunday, October 24, 2010
Sunday, October 17, 2010
10.13-14.2010 Broken Social Scene / Sea and Cake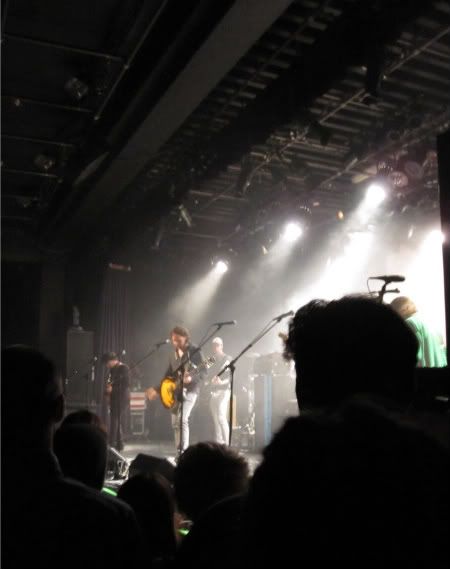 Opening for both shows were Chicago based Sea and Cake. This band is probably best known for having Tortoise member John McEntire drum for them. I've never been able to get into Tortoise aside from a few songs. I could actually imagine myself being quite bored if I ever had to seem them live, much like how I was during the majority of Sea and Cake's set. Really the only aspect of their show I found interesting was McEntire's drumming. He's pretty good. To be honest, aside from the times when various members of Broken Social Scene would sit in on certain songs, I had trouble telling one song from another.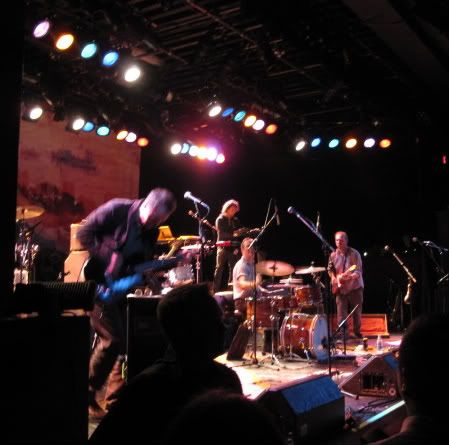 Even though I know I'll never see Feist, Amy Milan or Emily Haines sing with BSS in Vancouver, I am comforted with the fact that most of the other core members who wrote the early BSS albums are still touring. I thought that the first show was pretty long as it clocked in at around 2h 15. The second show proved to be even longer, pushing it to 2h 30. The setlist was quite varied, with songs spanning their catalogue. Thankfully, the two shows were different enough to make it worth it; not that 2+ hours of music is ever not worth it.
Maybe it's because BSS now has a few songs where Whiteman is the lead singer (and guitarist), but Whiteman was more vocal than I've ever seen him. During the first show he actually had something to say between songs. The most substantial being his support for the sex-trade workers and getting prostitution legalized a la Amsterdam. What can I say? He's a forward thinking man.
Fire-eyed boy had a pretty cool saxophone solo/jam in the middle of it. Not sure if they did this in the past as well. Guilty cubicles was a welcome surprise in the first night. I'm not really a fan of anything off 'Feel Good Lost', but it's nice to hear something they don't normally play. I've said it before and I'll say it again, Brendan Canning looks odd without his beard.
"Almost Crimes" was somewhat of a surprise as I could never see the laid back Lobsinger sing on such an upbeat song (she did do backups). Lead vocals were provided by Andrew Whiteman's wife Ariel. She's probably the least gifted of the BSS singers I've seen, but she definitely has the swagger needed to pull off the aforementioned song.
The biggest WTF moment of the 2 night stand occurred during the 2nd night. They brought out Neil Osbourne of 54-40 fame (you know "
Every time I look at you... I go blind..
" ...actually if you weren't listening to Canadian radio in the 90's you probably wouldn't know...) . After introducing it as the song Kevin Drew first made out with, they somewhat surprisingly launched into 54-40's "One Gun". I'm unclear if this was done ironically or unironically.
After seeing these two shows, I sort of feel stupid for thinking this show would be any less of a show just because a couple of divas (not my words) didn't feel like committing to touring well after a band got big (I should note that James Shaw of Metric fame flew in for the show). The mix of old and new songs were well chosen and really the only song I wanted to hear that they didn't play was "Major Label Debut". You really can't complain about a band when they play 2+ hours and vary their setlists. Now if only Kevin Drew could be less Bono-y...
$45/$45
Labels: broken social scene, commodore, sea and cake, vancouver
Monday, October 04, 2010
10.03.2010 Land of Talk / Suuns / Rah Rah
I actually remembered to bring my camera to this show, but apparently the band had requested no photos at the show. huh..
Anyways, Rah Rah, the first band, is not the same as that other band Rah Rah Riot. I'll confirm this when I see the latter in November. They're a really fun band. You could file this band under the indie label. Their singer has a sort of country-ish feel to it. Biggest surprise with this band was their drummer. She spent most of set behind the kit, but in the latter half, she did some singing and played bass as well. She could probably front her own band.
Suuns ("Sooons") is a band from Montreal that's very hard to classify. For the most part they reminded me of Maserati, but noisier and with more of dynamic sonic range. Their guitarist uses a lot of delay and distortion. They kind of drifted between lofi electronic music to catchy dancey indie rock. Like I mentioned before, hard to classify.
One thing that doesn't surprise me about Land of Talk after seeing them through the years, is that the lineup is pretty flexible. Case in point most of the older songs featured the power trio formation of Liz Powell on guitar/vox, Joe Yarmush on bass and Liam O'Neil (replacing Andrew Barr for a couple of shows). Despite the short notice and being only the second show that he was playing, Liam O'Neil filled in very well and didn't seem to miss a beat (bad pun). This is not the same Liam O'Neil from the Stills, though apparently Liz Powell knows em both. The new songs (and even some of the old ones for that matter) featured members of Suuns adding extra guitar and synth. In addition, a lot of songs also had Liz's friend and artwork contributor Corianne Tate as a backup vocalist. The setlist favoured heavily on songs from their new album
Cloak and Cipher
. While almost all the other albums were represented, I wouldn't have minded hearing either "Corner Phone" or "Give me back my Heart Attack", both of which slayed me last time I saw them. I will say this, I really can't say that Land of Talk's shows are predictable. The last 3 times that I have seen them, all 3 of the shows were quite different from each other. Tonight not being an exception.
$15/$15
Labels: Biltmore, land of talk, rah rah, suuns
---