06.19.2009 The Pack A.D. / Sorcerers / Canaries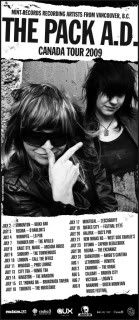 I must admit, I really don't see that many non-touring acts. As good as the local Vancouver scene is, the last local show that I saw was probably Fake Shark, Real Zombie. Even that was almost a year ago. I'm not really sure why this is, but this show was all local, so there you go.
The first band up were Canaries. No "The". Apparently this is important. I wasn't too into them. They had a very lo-fi, synth/party/screamo sort of feel to them, or as my friend put it, "Hey look it's Andrew WK".
Sorcerers were a little better. Firmly planted in the Vancouver Skate scene, their music had a interesting stoner/dub/punk feel to them. Actually throughout their set, they blasted out the smoke machine, making the stage seem like, for lack of better words, an opium den. Ironically, I don't remember much about their set, I do recall their bass player being really tight and their guitar player using a lot of effects, but that's about it.
The Pack A.D.hit the stage to a pretty packed house. The crowd was a bit on the older side (including the owner of Neptoon Records), but there were a couple of the usual indie crowd. The overall vibe of the show was very much like a homecoming gig despite the fact that it was more of tour send off show. Lots of crowd interaction as well as a surprise guest for a song or two. Two things really stood out for me. The first being the presence and power of singer/guitarist Becky. The second being that it was quite apparent that there was an abundance of chemistry between the two girls in the band. The seemed to be playing off of each other all throughout the set. Despite a couple of technical difficulties, the show went off without too much of hitch - a good send off for a band who probably won't be playing Vancouver again until December.
Labels: Biltmore, Canaries, North Vancouver, Pack, reviews, show reviews, Sorcerers, The Pack AD